3d Houston was started in 2005 by Stephen Devine to serve the needs of the business market with different types of electronic media. The company has done a wide spectrum of projects, making us a true 'multimedia' company. As our name portrays, one of our initial and most promoted products was 3d modeling, rendering, and animation. Since this one product line limited us to a very narrow segment of the market, we branched out from there. Soon, we were developing websites, flash animations, videos, and print materials.
See a need, fill a need.
From the beginning, the success of 3d Houston has been in the identifying and filling of our customers' needs. This is the philosophy we operate from. A person or a company can have a big idea, great skills, or a fantastic product. But, the challenge is then convincing others that they need it, or can't live without it. This is a hard sell. People know what they need, and are more inclined to buy when you are filling needs they already have. Plus, when a company has your needs as top priority, you can focus on what you do, knowing that your needs are being taken care of. 3d Houston strives to be such a company.
Stephen Devine, Owner and Founder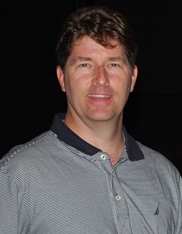 Stephen has a passion for building things- all sorts of things. This is his driving force to build good quality products through 3d Houston. Stephen has a BS in Technical Training with a minor in Training & Development. He is a multimedia specialist, and has been involved with electronic media development since 1994- before the Internet was of any great use to the public. He has been an aerospace teacher, a NASA manned spaceflight instructor working on the International Space Station, a consultant, a technical training coordinator, and an elearning module developer. Stephen spent 5 years at ITT Tech as a multimedia instructor, graduating over 35 students which he taught start to finish in the program. Anywhere technology and training come together, Stephen has skills that meet the challenge. It is because of his training skills- needs assessments and problem identification- that finding and addressing the needs of other companies, that 3d Houston has had success in making products that companies use to improve their bottom line. Stephen is currently seeking a flight instructor rating. He has a passion for flying, sailing, woodworking, and playing guitar badly. Stephen also teaches people to fly.
3d Houston's goal is to provide you with quality products and services. Come to us with your electronic media needs, and let us put a solution together for you. All of 3d Houston's products are made in America, by Americans.